What is an everyday giver?
An everyday giver is someone who knows the good "feeling" that comes from giving. It's a feeling of fulfillment that cannot be measured in material terms, yet it's a "feeling" that can give each day meaning - and last a lifetime.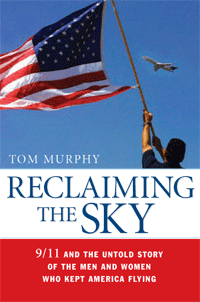 Read about
"Reclaiming the Sky"

Visit Fordham University's Human Resiliency Institute
---
View a news clip showing American Airlines flight attendants at the Pentagon honoring colleagues lost on Flight 77.
---
The "Everyday Giver" program offers students in high school and elementary schools a chance to learn this invaluable service principle from ordinary Americans who performed in extaordinary fashion on 9/ll.
The program uses the book, "Reclaiming the Sky," by Tom Murphy, as a vehicle to help students learn three key service principles - engagement, community and pro-action - from the stories of aviation workers in Boston, New York and Washington, DC. "Everyday heroes," they created personal paths to recovery by "doing for others" - and thus serve as fitting role models for young people.
Visit our Story Corner where participants share lessons they learned from the book and how they are applying the lessons to their lives and their service projects in school.

Read a program description.

View a video on YouTube.
Copies of Reclaiming the Sky have been donated by program sponsors. To become a sponsor - contact us.
All profits from the book go to aviation charities. Read about the work of these charities.
"Everyday Givers" was developed by the Service Institute and is offered by the Human Resiliency Institute at Fordham University in conjunction with Fordham's Center for Catholic Leadership. Both the Institute and Center are located in the Graduate School of Education at Fordham University.
To learn more about the work of the Human Resiliency Institute at Fordham, visit humanresiliency.com
Learn more about the aviation charities work with "Reclaiming The Sky"




Special thanks to the Archdiocese of New York for its leadership with this program and to the administration, faculty and students at the three high schools who made the pilot so successful in 2007/08 - including Bishop Moore, Cathedral High and Msgr Scanlan High School.
To learn how your school can participate - contact us.



Read testimonials.
Read support letters.